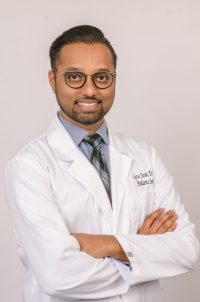 Dr Cyrus Sircar has lived in Southern California for over 20 years. He is a graduate of Southern California's only podiatry school, Western University of Health Sciences. Dr Sircar feels honored to have worked for the Department of Veterans Affairs during his residency where he not only worked with our veterans but also with active duty military personnel at Maxwell Air Force Base. He has been trained using the latest orthopedic foot and ankle surgical technology and techniques. Dr Sircar takes delight in seeing his patients transform from having constant foot pain to being able to return to pain free activity and wearing regular shoes after surgical correction of common foot problems such as bunions, hammertoes, fractures, and arthritis. 
He has also been trained in advanced wound care therapies. During his residency he became passionate about limb salvage as he worked with numerous veterans who had initially returned from war without any bodily harm but were now loosing limbs due to diabetes, vascular disease, and other medical conditions. He also had the opportunity to participate in multiple outreach activities including a medical mission trip to Honduras where free surgical care was provided to patients with complex deformities rarely seen in the United States. Dr Sircar is also an attending physician at several local hospitals including Cedars-Sinai Medical Center, Southern California Hospital, Hollywood Presbyterian, and Olympia Medical Center. 
In his free time Dr Sircar enjoys being out in nature and takes part in activities such as snorkeling, hiking, bicycling, and running. He also likes exploring the various neighborhoods in Los Angeles and appreciates their diversity.  Dr Sircar and his wife come from large families and he delights in spending time with them, as well as his friends.