WHAT IS AN INGROWN TOENAIL?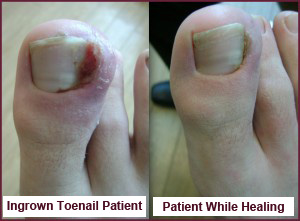 An ingrown nail is a portion of the the nail which grows abnormally into one of the skin edges that surrounds that nail. This can be slightly to severely painful depending on the severity of the ingrowth of the nail and if a subsequent infection has occurred due to the ingrown nail. Shoe gear can also create pressure on the area causing pain.
HOW IS AN INGROWN TOENAIL DIAGNOSED?
An ingrown nail is mainly diagnosed with the physical exam of the doctor. The history of the problem is important if this is a reocurring problem.
WHY DO I HAVE AN INGROWN TOENAIL?
There are several reasons why an ingrown nail occurs. Some of these reasons include improper cutting of the toenail, tight shoes (which causes pressure on the nail pushing it to grow into the skin), trauma to the nail or nail root (which can cause the nail to constantly grow abnormally), and sometimes excessive wetness/moisture of the feet. Once a toenail is ingrown, the possibility of infection also arises. Pus draining from the area is not uncommon.
HOW CAN I TREAT THIS PROBLEM?
In mild cases, applying moisturizer to the skin will allow the tough skin give a little and provided temporary relief. If the skin is red, swollen, and painful it is time to seek the attention of one of our doctors.
WHAT WILL MY DOCTOR DO FOR THIS PROBLEM?
In minor cases, we will cut the nail and show you how to cut the nail in the future to prevent reoccurrence. In more severe cases, the toe is numbed and the offending nail border is removed to allow the skin to heal and allow the new nail to grow in. It is rare that the entire nail needs to be removed. If this a chronic problem we will perform what is called a Phenol Matrixectomy. In this case the toe is numbed and the offending nail border is removed. A chemical is then used to remove the portion of the nail root that is creating an abnormally growing nail. This will permanently solve the problem. In some cases antibiotics are necessary to treat a local infection. Recovery from these minor procedures are short lasting a day.
CAN I PREVENT FROM IT HAPPENING AGAIN?
Proper cutting of the nails is important. Each nail is a little different, but in most cases cutting the nail straight across without diving into the corners is important. If the nail is cut properly and is not too short, it will prevent future ingrown nails.
If you would like to schedule an appointment to see one of our doctors regarding an ingrown toenail, please call our office at 310.652.3668.