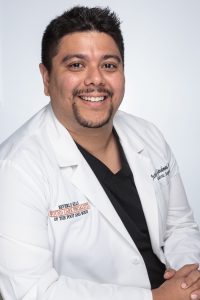 Dr. Gandomani is a native of Oklahoma and earned his undergraduate degree in Microbiology from the University of Oklahoma. After graduating, Dr. Gandomani completed his medical degree from Western University of Health Sciences in Pomona, California. He then completed his residency in Foot and Ankle Surgery at Jamaica Hospital Medical Center a Level 1 trauma center in Queens, New York. His comprehensive three-year training included complex limb salvage, wound care, foot and ankle trauma, emergency medicine, diabetic foot infections, and inpatient management. Dr. Gandomani's training also included working with various medical specialties such as vascular surgery, orthopedic surgery, plastic surgery, infectious disease, internal medicine, adult and pediatric emergency medicine departments.
During his time in residency, he also completed various outside rotations within New York in association with NYU Orthopedics and NYU Winthrop Hospital in Mineola, New York. Additionally, he furthered his training in sports medicine, biomechanics, traumatic injuries, and reconstructive foot and ankle surgery at the Carle Foundation Hospital, Carle Foundation Physician Group in Urbana, Illinois. Dr. Gandomani also has experience with treating our veterans while training at the VA Illiana Health Care System in Danville, Illinois.
Dr. Gandomani is focused to providing the best care that is patient specific and that enables the patient to be part of the process of their treatment plan. He will provide all treatment options to give the patient the best possible care. Dr. Gandomani manages and treats many pathologies and all types of medical conditions relating to the lower extremity. His credentials include being board certified with the American Board of Podiatric Medicine and board eligible for the American Board of Foot and Ankle Surgery.
Dr. Gandomani enjoys his time outside of medicine with his family and friends. He is also an avid sports fan due to his background playing sports before his career in medicine. He also enjoys an active lifestyle including playing sports, traveling, and hiking.