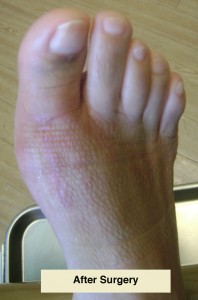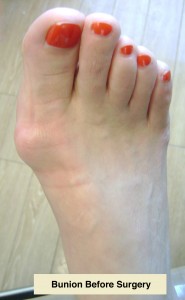 WHAT IS A BUNION?
A bunion is a prominent bump that appears at the side of the big toe joint. This bump represents the movement of a long bone in the foot behind the big toe. As the end of the bone continues to move medially or outward the bump becomes more prominent. As the long bone behind the big toe moves, so does the big toe. It begins to point toward the second toe. Bunions are a progressive disorder and as the big toe joint becomes more characteristic of the letter 'V'. The apex of the 'V' is the bunion prominence and it will point toward the other foot. Over time this can affect the other toes and also create arthritis in the big toe joint. Some never develop symptoms, others have severe pain and can not wear shoes.
HOW IS A BUNION DIAGNOSED?
A bunion is diagnosed with a thorough history and physical exam. X-Rays are also needed to determine the severity of the bunion.
WHY DO I HAVE A BUNION?
Bunions develop through an inherited trait that is passed on. It is in this trait that one develops a faulty mechanical structure of the foot. Thus it is not the bunion that is inherited but the foot type that will cause a bunion.
HOW CAN I TREAT THIS PROBLEM?
Shoe modifications are the best way to treat bunions conservatively. Other ways advertised, like strapping and splints, can provide temporary relief but will not correct the deformity. Therefore approach those methods with caution.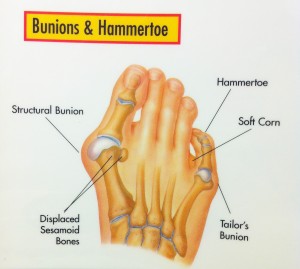 WHAT WILL MY DOCTOR DO FOR THIS PROBLEM?
After a thorough history and physical, we will take X-Rays in the office to determine the severity of the bunion. The X-ray will be reviewed and changes in shoes and lifestyle will be advised. Also we can provide padding and medications including cortisone injections locally to help with pain. If this conservative treatment fails we will recommend surgical correction. The severity of the bunion will determine the choice of surgical procedure and also the recovery time. Depending on the patient, their healing potential, and the type of procedure performed, most patients under our care can begin walking the day following the procedure and can possibly be back into normal shoes in 4-6 weeks. In all cases, there is no overnight stay required at the surgical facility or hospital after the procedure is performed. After you have completely healed we will take impressions of your new foot and fabricate a custom functional orthotic that will be discretely used in your shoes to reduce the likelihood of reoccurrence.
HOW CAN I PREVENT FROM IT HAPPENING AGAIN?
If a bunion is diagnosed early and the bump is not excessively prominent, moderate shoe changes and a custom functional orthotic can reduce the progression of the bunion from forming. Changing the inherited faulty mechanics of the foot is the key in conservatively treating this problem in order to prevent or delay surgery.