Podiatrists are doctors who diagnose and treat disorders of the human foot and ankle.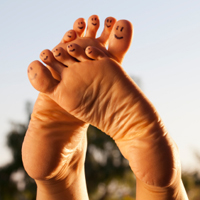 Podiatrists in the United States have a Doctor of Podiatric Medicine (DPM) degree. This degree is awarded by accredited four year colleges of Podiatric medicine and surgery.
All graduates of a Podiatric college will go on to a two or three year residency program in surgery and medicine. There are many Podiatric physicians that will choose an area of Podiatry to sub-specialize in, including biomechanics of the foot and ankle, Geriatric care, or Pediatric care. Some will continue their education with a fellowship in surgery, sports medicine, or limb salvage. Podiatrists often recognize systemic disease by its manifestation in the foot. Examples of this include diabetes mellitus, rheumatoid arthritis, and vascular disease.
Our Foot & Ankle Doctors, Inc. team of top Podiatrists are dedicating to healing the human foot and ankle, and helping all of our patients live happy, active, and pain-free lives.
We pride ourselves on offering the latest and most advanced procedures related to the field of Podiatric medicine.
To meet our team, please navigate the menu bar, or click here.