WHAT IS TENDONITIS?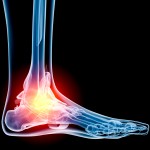 A tendon is a structure that connects a muscle to a bone. A tendonitis is an inflammation of a tendon which can occur as a result of many reasons including trauma, overuse, and specific systemic diseases. This inflammation can cause pain and possibly disability from walking properly. You may also experience swelling in the area of the tendon that is affected.
HOW IS TENDONITIS DIAGNOSED?
We will examine you foot and ask you to perform certain maneuvers with the foot in order to isolate the problem. Once the suspected tendon is identified we can further test the tendon through MRI and ultrasound to determine the level damage to the tendon. Blood tests might also be necessary if a systemic problem suspected.
WHY DO I HAVE TENDONITIS?
The most common cause of tendonitis is overuse. What this means is that the tendon could be reacting to an unusual increase in your activity level, or improper stretching prior to working out, or it can be reacting to an imbalance in the biomechanics of your foot and/or ankle. Any one of these can cause micro tears in the tendon that can cause inflammation which can result in pain. Trauma is the other leading cause of tendonitis, as well as systemic disease.
HOW CAN I TREAT THIS PROBLEM?
In most cases, taking over the counter pain medication including Tylenol, Advil or Alleve can help. This, followed by initiating RICE will help. RICE stands for rest, icing, compressive dressings applied to the area (like an ACE wrap), and elevation of the extremity. In more severe cases where this does not help, consultation from us is advised.
WHAT WILL MY DOCTOR DO FOR THIS PROBLEM?
We will begin with treating it with prescription strength non-steroidal anti-inflammatory medication. We will then perform a physical examination to determine the source of the problem. If it is determined that minimal injury has occurred we will recommend orthotics and physical therapy. If there appears to moderate injury we will consider immobilization. If the injury to the tendon is severe and is not responding to conservative care then surgery will likely be necessary to repair the tendon.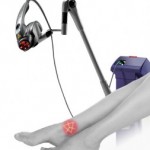 We are proud to now offer groundbreaking laser therapy to treat and relieve pain and inflammation due to tendonitis. Laser therapy has FDA clearance and is proven to be effective by numerous clinical studies. For more information about laser therapy, click here.
CAN I PREVENT THIS FROM HAPPENING AGAIN?
Yes, the best way would be to perform stretching exercises before an athletic activity. Proper athletic shoe gear is also critical. Shoe gear must be in good repair and will likely need additional help from a custom functional orthotic to provide added support for your foot type. We can help evaluate your shoes and prescribe the necessary orthotic your foot needs. Lastly, if the problem should arise again, contact us immediately so that we can treat the problem quickly, allowing you a better chance of a speedy recovery.
If you have any questions, or if you would like to schedule an appointment, give our office a call at 310.652.3668.