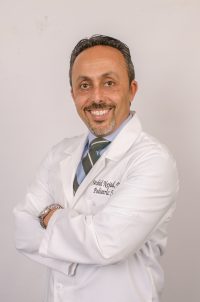 Dr. Farshid Nejad, D.P.M., FACFAS, FAPWCA is a member of the community and has lived in Los Angeles most of his life. He completed his undergraduate education at UCLA and his medical education at CCPM in San Francisco, completing both with honors. He returned to Los Angeles for an extensive two-year residency specializing in surgery of the foot and ankle.
Dr. Nejad is a board-certified foot surgeon who speaks nationally on various complex topics of the foot and ankle, as well as advanced technologies related to Podiatry. He is consulted for complex limb threatening conditions, due to his extensive knowledge in limb salvage techniques. He has been appointed as Co-Medical Director of Olympia Medical Center's Wound Care and Hyperbaric Medicine Center.
He is affiliated with various podiatric professional organizations including being a Fellow of the American College of Foot and Ankle Surgery, and Fellow of the American Professional Wound Care Association. He is an attending podiatrist at Cedars Sinai Medical Center and a clinical instructor teaching residents in complete foot and ankle surgery. Dr. Nejad believes in being completely available to his patients and prides himself to providing personalized treatment to all his patients and ensuring his staff be qualified to do the same.
Instagram: https://www.instagram.com/footdocbh/
Facebook: https://www.facebook.com/farshid.nejad.5
The following are recent patient reviews:
"I went from hobbling around in pain to barely noticing my arthritis. Dr. Nejad made my life so much better. – Alex C."
"First Appointment is like a first impression- What a great guy! Not at all what I expected. Very high remarks, great office, great front!" – Gerald G.
"My visit today on a scale of 1 to 10 was a 10+, as always." – Billy J.
"The office has been very friendly and accommodating. The doctor has been very kind and competent. I highly recommend Foot & Ankle Doctors, Inc." – Elaine S.