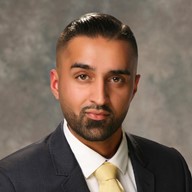 Dr. Aasin Tareen is a board-licensed Foot and Ankle surgeon who has resided in both Los Angeles and Orange County for most of his life. Dr. Tareen began his training at the University of California Irvine and later on went to finish Medical School at Barry University In Miami, Fl where he served as President of his Medical University. Dr. Tareen did his residency training at one of the leading medical institutions in America—Cedars Sinai Medical Center in Los Angeles, California. He was later granted the prestigious opportunity to become Chief Resident at Cedars Sinai Medical Center. Dr. Tareen has had the honor of training under the most world-renowned Foot and Ankle Surgeons in the entire United States.
During his residency at Cedars Sinai, Dr. Tareen has had extensive experience with dealing with sports medicine, bunion and hammertoe deformities, trauma, pediatrics, and diabetic limb salvage. Dr. Tareen has published numerous papers in medical literature on management of the aforementioned conditions. In addition to the numerous foot and ankle pathologies Dr. Tareen treats, he has had the opportunity to work with a number of professional sports organizations treating common foot and ankle issues.
Once a patient himself for foot and ankle issues, Dr. Tareen is committed to getting patients on their feet again. Whether it be diabetic wound management, flat or high arch foot
reconstruction, painful bunions, Achilles tendon injuries, etc.—he is willing to do anything to get you walking pain-free.
During his free time, Dr. Tareen enjoys spending time with his family, traveling to different countries, playing basketball (Go Lakers!), and most of all cooking. His mantra is, "May your feet take you where your heart wants to go". He looks forward to meeting patients from all walks of life so he can get to know them and their culture more—to ultimately help resolve any foot and ankle issues that may hinder them from becoming their best self.