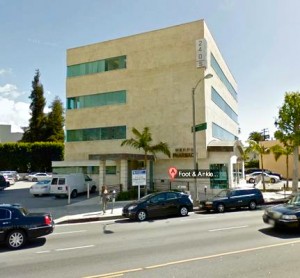 Our beautiful, modern, 2,000 square foot office is located on the third floor at 240 S. La Cienega Blvd. in the heart of Beverly Hills. Our cross-street is Wilshire Blvd.
We are proud to have a green office. We are both paperless and have all digital X-Rays.
Parking is not an issue at our office as there are meters on both sides of La Cienega Blvd., and the Beverly Hills public parking lot is located a block south on La Cienega Blvd (this parking lot is free for up to two hours). We also conveniently have a Hepps pharmacy located on the first floor that will validate on-site parking for 30 minutes.
Our young, charismatic doctors have great personalities and bedside manners. Both Dr. Dardashti and Dr. Nejad are instructors at Cedars-Sinai & Olympia hospital, and both specialize in foot & ankle medicine and surgery, with subspeciality of limb salvage. We are also affiliated with Kindred, Brotman, Valley-Pres and Mission Hospital.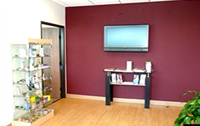 At Foot & Ankle Doctors, we pride ourselves on giving you the best possible experience starting from the moment you pick up the phone to call us or step into our office. Our staff is kind and attentive, and all of our patients receive VIP treatment.
Our office is proud to now offer groundbreaking laser therapy to treat foot and ankle pain, inflammation, scarring, and toenail fungus. We have invested in the very best and most advanced technology as a key component of our ongoing dedication to our patients and to keep providing them with the best and most advanced care.
Laser therapy has FDA clearance and is proven to be successful by extensive and credible studies conducted in our country's finest institutions, including Harvard University. For more information about our laser therapy, please click here.
We know you have many choices when it comes to your healthcare, and we appreciate you trusting our team to provide you with the best possible care.
We Accept Most Insurances including all PPO Insurances, HMO's with referrals, and Medicare. For any specific questions about insurance coverage, please call us at 310.652.3668.
We also accept cash patients.




New Non-Surgical Treatment for
Common Foot Pain
Vascular Testing
24 hr. On-Call Service
Cryotherapy
Electronic Medical Records
Affiliates
The following are hospitals with which we are affiliated:
Cedars-Sinai Medical Center
8700 Beverly Blvd.
Los Angeles, CA 90048
Kindred Hospital – Los Angeles
5525 West Slauson Avenue
Los Angeles, CA 90056
Valley Presbyterian Hospital
15107 Vanowen Street,
Van Nuys Van Nuys, CA 91405
Olympia Medical Center
5900 W. OLYMPIC BLVD.
LOS ANGELES, CA 90036
Brotman Medical Center
3828 Delmas Terrace
Culver City, CA 90232
Mission Hospital
14850 Roscoe Blvd. 
Panorama City CA,
91402